GRAB BAG OF STICKERS!
$

15.00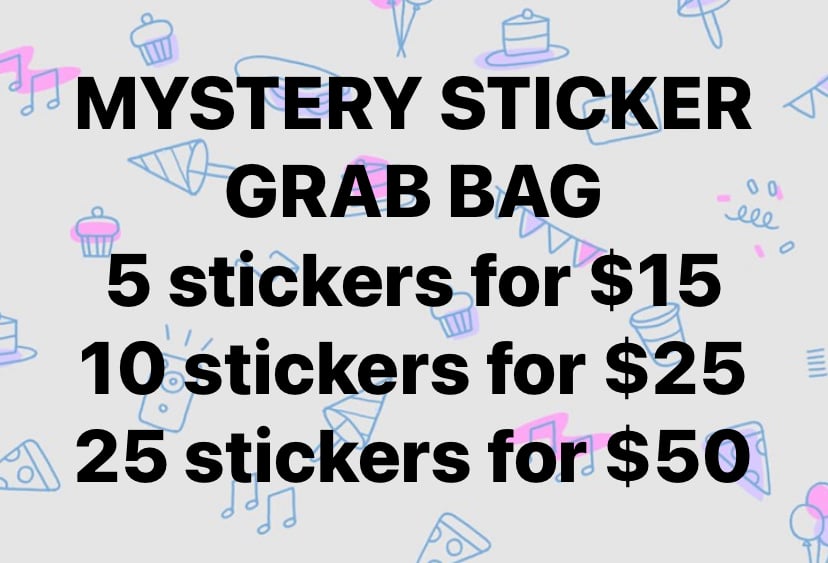 This is a MYSTERY GRAB BAG of stickers
5 stickers for $15 ($3 each sticker)
10 stickers for $25 ($2.50 each sticker)
25 stickers for $50 ($2 each sticker)
All stickers will be 3in weatherproof vinyl; ok for laptops, waterbottles, dishwasher safe, and OK for cars!
There will be no repeated stickers and the stickers will be a mix of ALL available stickers we have on the store of both fandom and original, and a few that are not listed (older stickers or prior freebie stickers we have extras of)
You can request a few stickers from certain fandoms, or if you'd like it to be mostly original feel free to make a comment, but please note you will NOT be able to choose the stickers in the bag! It is ultimately a mystery!
Use these discounts when ordering multiple items!
8% off any purchase of $35 with code MATCHA
12% off any purchase of $75 with code JASMINE
15% off any purchase of $150 with code EARLGREY
PLS NOTE: WE ARE NOT CURRENTLY SHIPPING TO THE UNITED KINGDOM!!!!!! (England, Scotland, Wales and Northern Ireland) Ginger and Lyra have not had time to review all the VAT requirements nor have we gotten a tax ID. We would like to ship there in the future, possibly through Etsy. Any purchases made WILL be refunded, I am incredibly sorry for the inconvenience.